Country star Thomas Rhett is a 32-year-old heartthrob known for his powerful voice and soulful lyrics. In his personal life, he is a dad to four little girls.
His family is a beautiful one and the story of how the little clan came together is even sweeter!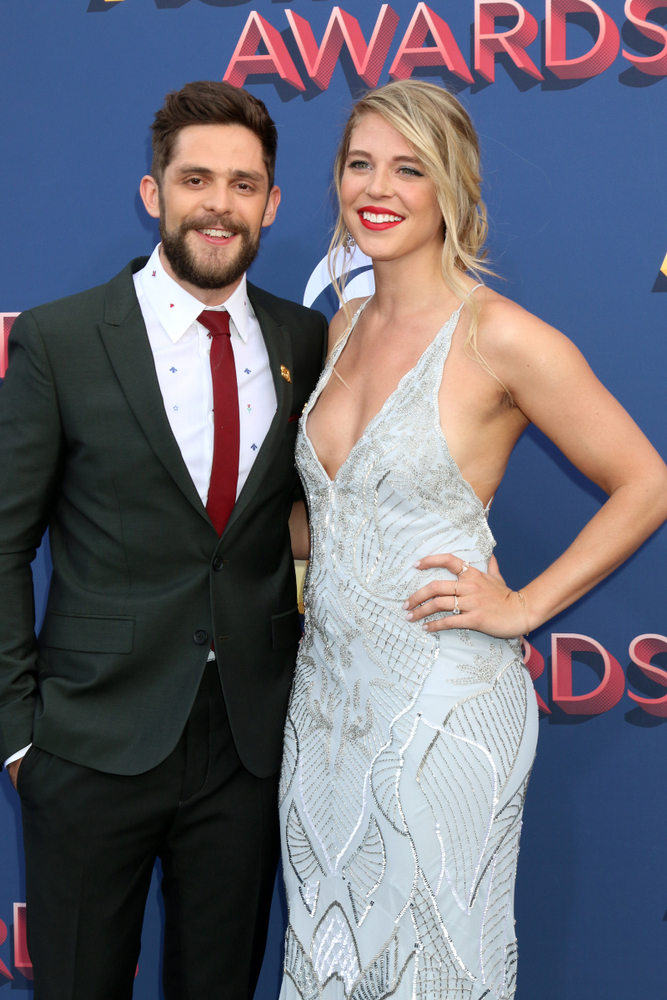 Thomas Rhett married his childhood sweetheart Lauren Akins in Tennessee. Even though he is a big country music star, the singer has humble aspirations for his life; to have a big happy family of his own.
So far the couple has been successful in their quest and is currently raising four unique daughters on their own! As a dad he is hands-on, and the role has inspired some of his big hits, which include "To the Guys That Date My Girls."
His oldest daughter is Willa Gray, and most people might be surprised to learn that the couple chose to go the route of adoption for their oldest child. They adopted little Willa Gray from Uganda in 2017 when she was just a toddler. Now the 7-year-old is grown up and accompanies her parents to many events, striking poses as she clearly knows how to present herself on the red carpet!
Rhett opened up about the adoption on Hoda Kotb's podcast, saying, "Adoption is one of the most beautiful things in the world and I don't think at the beginning of it you go, 'Oh, in like six years, I'm gonna have to start answering some really intense questions.'" He told Kotb on the podcast, "It's kinda like you go, what age is the right age? Because the world is moving so fast to have a conversation with a 6-year-old about that. Maybe I'm too old school to think that way, but I go, 'Maybe we need to wait until she's 10'."
When the couple adopted Willa Gray, Lauren was already pregnant with their second child and gave birth soon after to Ada James on August 12, 2017.
In 2018, Rhett talked about what it was like being a father to two young girls. He said, "Ada is walking. Willa Gray is having full-on conversations with me. She's smarter than I am. It's only going to continue to get worse, but it's been such a life-changing experience in all the best ways possible."
His oldest two daughters starred in his memorable music video for the song, 'Life Changes,' which was adored by fans all over the world!
His third daughter was born on February 10, 2020, and named Lennon Love. Her middle name was inspired by her birth being so close to Valentine's Day.
In an interview, Rhett said, "Lennon came from John Lennon, from The Beatles. I knew I wanted some sort of musical name for our third child, and me and Lauren both loved the name Lennon."
On November 15, 2021, the couple welcomed their fourth child, little Lillie Carolina Akins, who is now their youngest.
The singer was more than happy about the new addition to the family, writing how the couple had "always wanted a big thanksgiving table." He announced the news on Instagram to his fans. He wrote, "Well… we are pregnant again! Tonight when I was on stage in Fort Worth about to play 'to the guys that date my girls' my wife talked to me in my (ear monitors) and said 'you can tell them if you want' so anyways, now you know," the singer wrote on Instagram. "We are pumped to be having our 4th girl feel free to buy all the merch you want, knowing that all the proceeds are going straight to all these weddings I'll be paying for one day!"
In a recent interview, the singer revealed he even had a name idea for his fifth child. He said, "Georgia is my first choice, I love the name Georgia for a girl," Rhett said, a way to honor his own home state.
While the couple does not have any solid plans of expanding their family further, the singer did say it is possible. He said in an interview, "I thought that adding three to the mix would be a lot harder but it really just tacks on a little bit to the chaos. I think when you have more than two kids, you could have five, six, seven. I mean, it does get harder but I think that as they kind of become into that 1 and a half year old to 2 year range it starts to get little bit easier," the singer said. He added, "I would say the infant stage is definitely the hardest. But I think once Lennon starts to get six months to a year, I think it's gonna be just fine."
Thomas Rhett surely has a beautiful family! We wish him and his beautiful family all the luck in the world!